Strain gauge sensor with integrated electronics in high-performance elastomer
Compact and very robust strain gauge sensor with fully integrated evaluation unit for outdoor use to measure cracks, strain, misalignment, deflection, spring deflection, movement of machine parts, etc.
High-performance elastomer for +20 years outdoor use
High-quality temperature compensation
High IP protection, chemical resistant
Supply voltage 12...24 VDC
Output signal 0...10V or 4...20mA
Easy mounting by glueing, screwing, magnets
Nominal measuring range: 20mm bzw. +/-10mm
Output signal: 0...10V oder 4...20mA
Supply voltage: 12…24 VDC
Cable connection: 3m / 10m / 100m
Protection:

IP68 / IP69K
Operating temperature: -40°C...+80°C
Temperature compensation: active, parallel strain gauge
Resistant to many chemicals
Suitable for food, medical industry
ES 20 K


Nominal measuring range

20mm

Linearity

< 0,5 %

Reproducability

< 0,1 %

Resolution

10µm

Supply voltage

12...24 VDC

Power consumption

< 20mA

Polarity protection

no

Sampling Rate intern

1000 Hz

Dynamic bandwidth

100 Hz

Recommended dynamic range

< 10 Hz

Output signal

Standard: 4...20mA
optional: 0...10 VDC or 0...5V

Cable

Standard: 3m PE 4-wire, unshielded

Option: 10m / 100m / others

Case material

Silicone elastomer

Operating temperature

-40 ... +85°C

Drift

< 0,01 % F.S./K

(for Δt ≤ 1 K/Min.)

Protection (DIN 40050)

IP 68 / IP 69 K

Type of installation

Bolts, pins or super-magnets

Mounting

2x eyelet ID Ø6.1mm x 13mm

Zero position

Hole spacing / Lm = 97mm

Weight

approx. 80 Gramm

Chemical resistance

RL

Water, oil, acid, etc.

EMC

According to IEC 60947-5-2

Mechanical final inspection

1000 cycles with 150% measuring range

Temperature test

Force at end position

ca. 120 N

Options:
Special cable lengths and accessories on request
Mechanical drawing / connection
The zero point of the sensor, i.e. 4mA or 0V output signal, is at dimension Lm = 97mm.

For measurements with plus/minus range, the sensor must be preloaded so that the output dimension is Lm + 10mm = 107mm.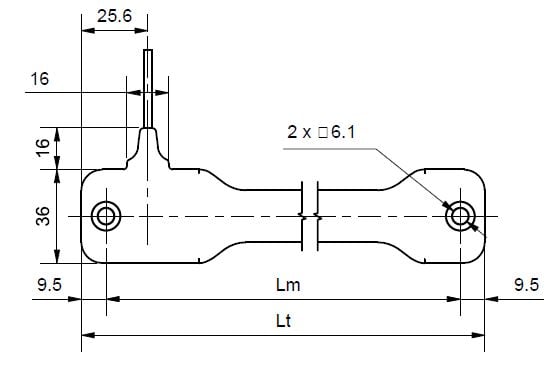 Standard: 3m cable, 4-wire, unshielded

Cable lengths of more than 100m are possible by using special low-impedance cable.