Strain gauge sensor with integrated electronics in high-performance elastomer
Compact and very robust strain gauge sensor with fully integrated evaluation unit for outdoor use for measuring cracks, strain, displacement, deflection, esp. building monitoring / crack monitoring.
High performance elastomer for +20 years outdoor use
High resolution of up to 5µm possible

High quality temperature compensation
High IP protection, chemical resistant
Supply voltage 12...24 VDC
Output signal 4...20mA or 0...10V / 0...5V
Easy mounting by glueing, screwing, magnets
Nominal measuring range: 5mm resp. +/-2,5mm
Output signal: 4...20mA or 0...10V / 0...5V
Supply voltage: 12…24 VDC
Cable connection: 3m / 10m / 100m
Protection:

IP68 / IP69K
Operating temperature: -40°C...+85°C
Temperature compensation: active, parallel strain gauge
Resistant to many chemicals
Suitable for food, medical industry
ES 5




Nominal measuring range

5 mm

Linearity

< 0,5 %

Reproducability

< 0,1 %

Resolution (standard)


5 µm

Supply voltage

12...24 VDC

Power consumption

< 20 mA

Polarity protection

no

Sampling Rate intern

1000 Hz

Dynamic bandwidth

100 Hz

Recommended dynamic range

< 10 Hz

Output signal

Standard: 4 ... 20 mA




optional: 0 ... 10 VDC or 0 ... 5V

Cable

Standard: 3 m PE 4-wire, unshielded
Option: 10 m / 100 m

Case material

Silikon-Elastomer

Operating temperature

-40 ... +85 °C

Drift

< 0,01 % F.S./K (for Δt ≤ 1 K/Min.)


Protection (DIN 40050)

IP 68 / IP 69 K

Type of installation

Bolts, pins or super-magnets

Mounting

2x eyelet / hole ID Ø6.1mm x 13mm


Nullposition

Hole spacing / Lm = 60mm

Weight

ca. 70 Gramm

Chemical resistance
RL
Water, oil, acid, etc.

EMC

According to IEC 60947-5-2
Mechanical final inspection

1000 cycles with 150% measuring range
Temperature test

full cycle -40 to +85 °C
Further:
Special cable lengths and accessories on request
Mechanical drawing / connection
The zero point of the sensor, i.e. 4mA or 0V output signal, is at dimension Lm = 60mm.

For measurements with plus/minus range, the sensor must be preloaded so that the output dimension is Lm +2.5mm = 62.5mm.

For strain measurements, the sensor can be rigidly extended to 500m or 1000mm, resulting in an even better signal strength.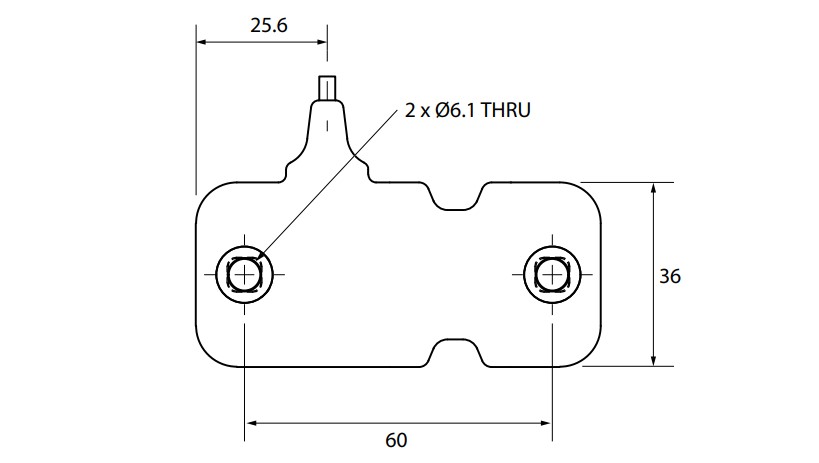 Standard: 3m cable, 4-wire, unshielded

Cable lengths of more than 100m are possible by using special low-impedance cable.