The vibration sensors of the KS series are used to detect absolute vibrations on machines and system components in the frequency range of approx. 0.5Hz to 10kHz and temperature range of -20 to 120°C. The PIEZO sensors work according to the shear principle with IEPE supply.

The shear principle PIEZO sensors with IEPE supply provide a voltage signal proportional to the acceleration, which is modulated onto the phantom supply.

The robust, double-shielded stainless steel housing ensures good signal quality even in rugged industrial applications with EMC exposure.

Robust, double-sealed stainless steel housing
Insulated housing to avoid ground loops
Double shielding for improved EMC protection
M12 connector for easy mounting
Measurement in all directions
Temperature range from -20 ... 120°C
KS80D


KS81B

KS74-C10


Output

IEPE

IEPE

IEPE

Measuring principle

PIEZO, Shear principle

PIEZO, Shear principle

PIEZO, Shear principle

Sensitivity

100mV/g ± 5%

100mV/g ± 5%

10mV/g ± 5%

Measuring range

±55g

±60g

±600g

Fracture acceleration

4000g

4000g

5000g

Linear frequency response f5%

0,4 ... 13000 Hz

0,4 ... 13000 Hz

0,35 ... 8000 Hz

Resonant frequency +25dB

> 32 kHz

> 23 kHz

>42 kHz

Transverse direction factor

< 5%

< 5%

< 5%

Inherent noise (rms value; 0.5 Hz - 20 kHz)

< 300 µg

< 300 µg

< 300 µg

Noise densities 100 Hz

1 μg/√Hz

1 μg/√Hz

2 μg/√Hz

Constant current supply

2 .. 20mA

2 .. 20mA

2 .. 20mA

Operating point voltage at ICONST = 4 mA

12 .. 14 V

12 .. 14 V

12 .. 14 V

Output impedance at ICONST = 4 mA

< 130 Ω

< 130 Ω

< 130 Ω

Working temperature range

-20 / 120 °C

-20 / 120 °C

-20 / 120 °C

Temp. coefficient of sensitivity

±0,05 %/K (-20 .. 0°C)

>-0,02 %/K (0 .. 30°C)

>-0,07 %/K (30 .. 120°C)

±0,05 %/K (-20 .. 0°C)

>-0,02 %/K (0 .. 30°C)

>-0,07 %/K (30 .. 120°C)

±0,06 %/K (-20 .. 0°C)

>-0,02 %/K (0 .. 80°C)

>-0,06 %/K (80 .. 120°C)

Temperature jump sensitivity

0,01 ms-2/K

0,01 ms-2/K

0,1 ms-2/K

Degree of protection

IP67

IP67

IP64

Ground without cable

65,5g

102g

28,5g

Case material

Stainless steel

Stainless steel

Stainless steel

Cable connection

axial

radial

axial

Socket

Binder 713

Binder 713

TNC

Mounting thread

M8

M8

M5
Special designs on request
Connection / installation dimensions
Connection via thread:
M12 x 14mm
Tightening torque 45Nm
Width across flats 17mm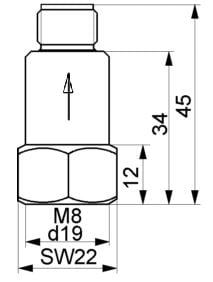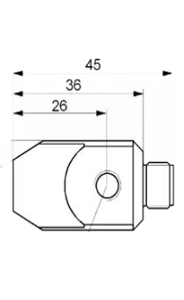 | | | |
| --- | --- | --- |
| | 5-Pol M12 | 6-Pol M16 |
| Output signal 1 (+) | 1 | 1 |
| Output signal 1 (GND) | 2 | 2 |
| Output signal 2 (invers) | 3 | 3 |
| Output signal 2 (GND) | 2 | 4 |
| Power supply + | 5 | 5 |
| Power supply GND | 4 | 6 |
Standard: 3 m cable, 4-wire, unshielded